Dropbox Mac - Deletes files on reinstallation?
---
I uninstalled Dropbox from my work mac before submitting my laptop of reimaging of OS with corporate junk installations.
Since I was sure, I should be able to install it again and download all synced files back on mac, I had deleted before handing over to IT people. So I didn't copy files in ~/Dropbox to my backup hdd.
Due to conflict in scheduling with IT, I returned with same machine without any installation. So naturally I wanted to install Dropbox and sync the files.
Twist in this tale was, after installing Dropbox again I don't see any files synced. I checked the menu for sync status, and it said Up to date but no files in ~/Dropbox.
With little fear as I didn't backup the files, I quickly signed into Dropbox website and shocked to see there are no files in there.
Fear shifted to full panic, I carefully recounted the steps I had taken from uninstall to re-install. I was certain I had deleted the folder post uninstallation of Dropbox app with app-cleaner app.
Quickly checked Deleted Files section of Dropbox web to see all the files deleted recently.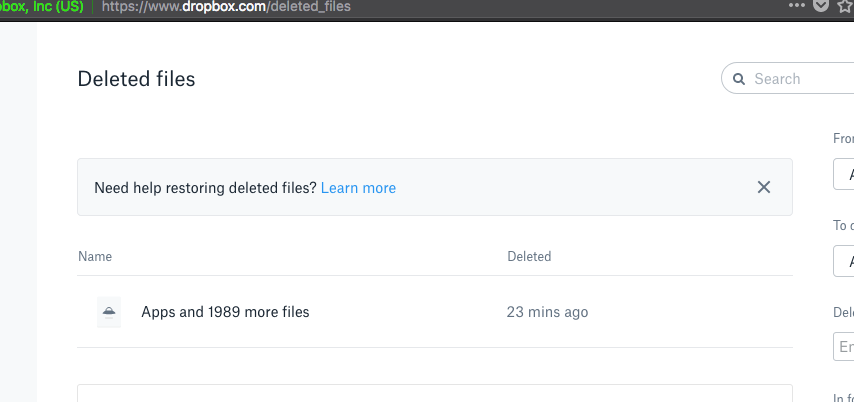 After restoring files back from Deleted Files, I realized the new re-installation didn't ask for username and password.
I suspect, somehow Dropbox keep track of deleted files in mac and re-sync deleted files in Dropbox server on re-installation.
I don't know for sure who would thought of this as a feature! I am pretty certain folks who do not know Deleted Files option or forgot to check in time would loose their files.
So moral of the story worth repeating, Do not trust single backup in this case just Dropbox.
Any how, I was successfully restored, ~2GB of data and Dropbox synced to the system successfully.